Liverpool donors warned 'your kindness to beggars may kill'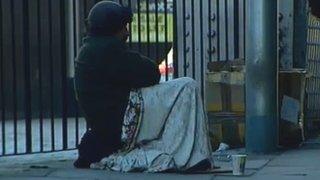 Charitable people who give donations to street beggars in Liverpool have been warned "your kindness could kill".
"Misplaced generosity" could simply be feeding drug or alcohol addiction, Liverpool Charity and Voluntary Services (LCVS) said.
Liverpool City Council said there were between 20 to 30 persistent beggars in the city who have "refused" help.
LCVS were armed with buckets and information in the city for the first Your Kindness Could Kill collection.
'Renowned generosity'
The initiative is designed to encourage people to donate to registered charities and further collections will take place on 12, 14 and 19 December.
The council stressed the "majority" of the city's beggars were not sleeping rough or homeless, with only "one or two" who may not have accommodation.
Councillor Peter Brennan said people in Liverpool are "renowned for their generosity" and they "put their hands in their pockets" when they see someone "struggling".
"But, without realising it, they are keeping beggars in their way of life which will result in the majority of them feeding an addiction and not addressing their underlying problems," he explained.
"All have been offered help but have refused to take up that offer."
LCVS is a registered charity which was chosen to collect then donate money for the campaign.
Donations distributed
Mr Brennan said: "We are not saying to people to turn their backs on beggars nor are we judging them but we are saying there is a better way to help."
The donations will be distributed equally between four local charities - The Whitechapel Centre, The Basement, Young People's Advisory Service and the Liverpool Homeless Football Team.
The city council said six people were sleeping rough in 2013 and 2012. In 2011, nine people were sleeping rough.
It recorded 37 households - 14 families and 23 individuals - as homeless in the first quarter of 2013. This fell by 26% compared to the same quarter last year.
The campaign is supported by a number of organisations including the council and Merseyside Police.