Six 'illegal immigrants' found in lorry in Liverpool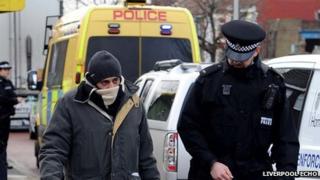 Six people, including a boy, thought to be illegal immigrants from Iran have been found in a lorry after reports of "banging and shouting".
Police said they were called to a lorry travelling through Liverpool at 09:00 GMT on Thursday.
The vehicle was stopped on Brewster Street, Kirkdale, and officers searched it, the spokesman said.
Three men, two women and a boy were discovered inside, along with two drivers.
Merseyside Police said the boy was "believed to be around 12-years-old." They were alerted after members of the public heard banging and shouting from inside the lorry.
Hospital checks
A spokeswoman for the Home Office Immigration Enforcement said it was contacted by Merseyside police after six suspected illegal immigrants were found in Kirkdale hidden within a lorry.
"The six Iranians include three men, two women and a child," the spokeswoman said.
"Two of the group have been taken to hospital on a precautionary basis for check-ups. The others are currently being questioned whilst on-going investigations take place."
She was unable to comment further.
An ambulance service spokesman said they had treated a patient, who had been in the back of a lorry, thought to be one of the women.
A member of the public who saw the people leave the lorry, told the BBC they had looked "really tired and dishevelled."
He said: "They said they had been on the road for hours and hours and I felt really sorry for them."