Ancient Liverpool city seal copy is displayed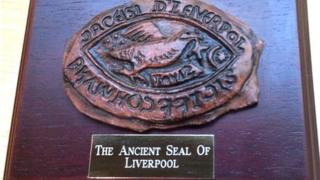 The oldest copy of Liverpool's 14th-century seal has gone on display for the first time after it was loaned to the city by the British Library.
The seal, used to wax stamp documents, is on display at the Central Library, alongside the original city charter signed by King Henry III in 1229.
The 19th-century copy is the oldest impression of the 1352 mould, which was lost or destroyed 100 years ago.
It has been loaned to the city until March 2014.
Historical insight
The seal depicts a bird with the words Johnis or Joh'is, an abbreviation of the Latin Johannis or John, in honour of the King who granted the then sleepy settlement a royal letters patent in 1207.
The second charter granted to the city by King Henry III in 1229 allowed the use of a common seal.
The motto around the seal has been translated to read "the common seal of the burgesses of Liverpool".
Mayor Joe Anderson requested the loan of the artefact after local business Liver Birds Inc Ltd discovered it was held at the British Library.
He said: "To have this seal displayed in Liverpool is fantastic for the city and I'm delighted the people of this city will be able to enjoy it in its temporary home.
"It is a vital part of Liverpool's history as this 19th-century artefact is a direct link back to the 14th-century."