Everton Football Club crest 'inspiration' tower lit up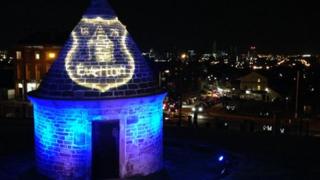 A historic Merseyside landmark that features on Everton's crest is being illuminated to show it's "special meaning" to the club and community.
The 235-year-old Lock-Up at Everton Park will be bathed in blue light and with the Everton FC logo every evening.
Club chairman Bill Kenwright said: "I get a lot of inspiration from that old tower because it is at the heart of our club badge."
City mayor Joe Anderson said it marked a brighter future for the tower.
Known locally as Prince Rupert's Castle, the tower was adopted by the club for its crest after the decision to change its name from St Domingo's to Everton was taken at a meeting in Everton Village in 1879.
'It's where we come from'
It was originally built to imprison anyone disturbing the peace in the village.
Its restoration is part of a project to transform the park into a tourist attraction.
Mr Kenwright said: "For me, the Everton tower has always had a special meaning. I cannot tell you the number of times I have stood below the tower or next to it.
"For years, my mum and my Aunty Bet would pick me up at Lime Street Station when I arrived on match days from London.
"They would drive me up to Goodison Park and I would always ask them to go via the tower.
"They would sit in the car for five minutes and I would get out and gather my thoughts, especially when times have been tough or before a big game.
"It's all to do with where we come from."