Hillsborough families complain of 'police spying' to IPCC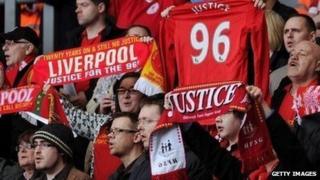 Solicitors for families of Hillsborough victims have made an official complaint about alleged police surveillance after the disaster.
Lawyers representing 12 of the families said the complaint included alleged phone tapping.
The Independent Police Complaints Commission (IPCC) said it had received a letter and was assessing the claims.
Home Secretary Theresa May said the police watchdog would pursue claims if evidence came to light.
In a statement, Broudie Jackson Canter solicitors said: "This is not a case where there was any implication or suggestion of wrong-doing by any of the complainants and if surveillance took place it was both unjustified and malevolent."
The firm said it was making a separate complaint on behalf of its clients about the refusal of the Metropolitan Police to comment on the concerns raised by families.
Sheila Coleman of the Hillsborough Justice Campaign has previously claimed campaigners' phones were "definitely tapped" and that families were "effectively criminalised".
'Shadowed like terrorists'
Theresa May told the House of Commons last week the IPCC would pursue the claims if any evidence of surveillance came to light but said she could not compel police forces to "confirm or deny" any monitoring of families.
Liverpool Walton Labour MP Steve Rotheram claimed that families had been "shadowed like terrorists".
Ninety-five victims were crushed to death in Britain's worst sporting disaster, on 15 April 1989, at Sheffield Wednesday's Hillsborough stadium during Liverpool's FA Cup semi-final against Nottingham Forest.
The 96th victim died in 1993 when the Law Lords ruled that doctors could stop tube-feeding and hydration.
Fresh inquests into their deaths will begin in Warrington in March after the original accidental death inquest verdicts were quashed in 2012 following an independent report.
As well as new inquests, the IPCC is examining police conduct following the tragedy.
The police watchdog said in a statement: "The IPCC has received a letter from Broudie Jackson Canter. We will assess this before determining any next steps."