Brother's appeal on anniversary of Craig Eaton murder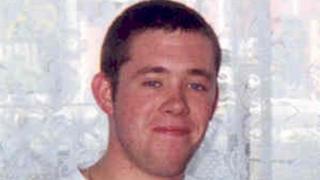 The brother of a murder victim has launched an appeal a decade after he was killed.
Police believe Craig Eaton, 22, was a victim of mistaken identity when he was shot as he walked along Molyneux Road in Kensington, Liverpool.
Merseyside Police and Crimestoppers are offering a £20,000 reward to find the person responsible for the "cold-blooded" killing.
Mr Eaton worked as a care assistant at Alder Hey Children's Hospital.
He was shot twice as he walked to a friend's home at 23:15 GMT on 24 February, 2004.
Local people tried to give him first aid and called emergency services, but he was pronounced dead at Royal Liverpool University Hospital.
His brother, Lee Eaton, said: "We have never been able to come to terms with Craig's loss and he is constantly in our thoughts.
"I'm now a dad myself, with four young boys and a girl, who will never have the pleasure of knowing their uncle Craig."
He said his children had been "robbed of the ability to get to know and love Craig".
Det Insp Robbie Slater said: "Craig was dedicated to helping children with life-threatening illnesses and on the day he died, he was coming to terms with the loss of one of the children he had been caring for."