Everton plan Hillsborough memorial at Goodison Park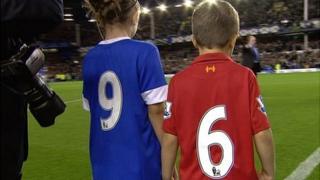 Everton Football Club are planning to have a permanent Hillsborough memorial at their stadium to remember the 96 Liverpool fans who died in the tragedy.
The club said they had a "commitment" to unveil the Goodison Park memorial for the 25th anniversary next month.
Talks have been held for a number of months with an Everton fan whose brother died during the 15 April 1989 disaster, a club spokesman said.
Fresh inquests into the deaths will begin in Warrington on Monday.
Mark Rowan, head of media at the club, said: "Evertonians and the club have always stood shoulder to shoulder with the families of the Hillsborough victims during their long fight for justice and we feel it is fitting that our home should have a permanent tribute to the 96."
The supporters were crushed during an FA Cup semi-final between Liverpool and Nottingham Forest at Sheffield Wednesday's stadium.
Original accidental death inquest verdicts were quashed in 2012 following an independent report.
Following the report's publication, Liverpool's rivals paid tribute to the Hillsborough families ahead of a match at Goodison Park.