Newsham Park and Clarence Dock to host giant puppets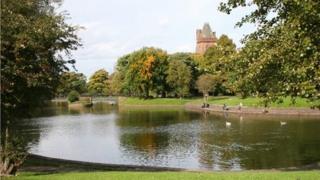 Key locations for a giant puppet event in Liverpool to mark 100 years since the start of World War One have been announced by its organisers.
Memories of August 1914, which runs from 23 to 27 July, will heavily feature Newsham Park and Clarence Dock.
In 2012, three giant marionettes walked through the streets over three days. The tallest stood at 50ft (15m).
The French company Royal de Luxe, who specialise in street theatre using puppets, are returning to the city.
Organisers said the giants would use the Grade II-listed Victorian park as a "sleepover destination" on 25 July.
The puppets will walk along Gardner's Drive, Sheil Road and other streets in the area.
'Engage with art'
Jean Luc Courcoult, founder of Royal de Luxe, said: "It is our ethos to make sure free events touch the heart of communities and neighbourhoods.
"Seeing these beautiful giants walking past rows of houses, local shops and parks means that we are bringing magical theatre to an audience who may not usually engage with art."
Liverpool City Council said the full route would be announced at a later date.
Sea Odyssey, the 2012 event which commemorated the Titanic disaster, generated an estimated £32m for the city, an independent report found.
The WW1 event has been commissioned by Liverpool City Council and 14-18 Now, which is a cultural programme funded by groups including the Department for Culture, Media and Sport.