Untold stories of disabled people in Merseyside exhibit opens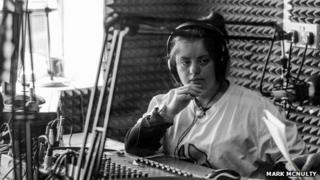 An exhibition dedicated to the untold stories of people with learning difficulties in Merseyside has opened.
From There to Here is a part of the People Like Us project, which looks at their social and cultural history.
Photographs of people taking part in activities including learning about new technologies are on display at the Museum of Liverpool until 13 July.
A performing arts company and the museum has worked on the two-year scheme.
Wicked Fish has been investigating how people with disabilities were treated by society over the last 100 years.
Di Christian, creative director of Wicked Fish said: "Participants took part in many different activities in order to develop their research and work for the project, and were photographed throughout.
"[The] photos, which are featured in the exhibition, show participants learning to use new technologies, delivering live radio shows and taking part in drama workshops."
Many other people in the exhibition attended schools and institutions in Liverpool such as Chatham Place, Fontenoy Street and Orwell Road during the late 19th and early 20th century.