Ex-Hillsborough secretary: 'Terrace choice made no sense'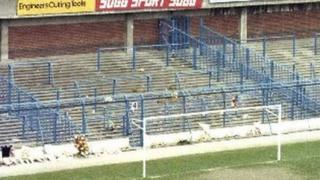 Sheffield Wednesday's ex-club secretary said he was "aghast" when he saw Liverpool were given the Leppings Lane end for the 1988 FA Cup semi-final.
Richard Chester told the Hillsborough inquests Liverpool had twice as many travelling fans as Nottingham Forest the year before the tragedy.
He also said the Spion Kop end was more easily accessible to supporters travelling from the north.
Mr Chester said "it didn't make any sense whatsoever to me".
He also said he was concerned about the capacity of the Leppings Lane terraces and had "kept back" 250 tickets from two all-ticket matches.
Mr Chester told the jury in Warrington he "wanted a little bit of protection and a little bit of back-up".
He said there was no way of counting spectators in different areas of the ground when he joined the club in 1983.
He said he did "all he could" to ensure safety at the Hillsborough stadium.
Ninety-six people died following overcrowding at the 1989 FA Cup semi-final between Liverpool and Nottingham Forrest, held at Sheffield Wednesday's Hillsborough ground.
"On the occasions that we had all-ticket games, I took the liberty myself of extracting a number of tickets for sale on the Leppings Lane end," Mr Chester said.
Mr Chester, club secretary between 1983 and 1986, said he would remove 250 tickets before they were sent off to the away teams for sale.
He said he only did this twice during the 1984-85 football season.
'I'll take note'
He told the hearing: "If you have taken a bit of terrace out, that's not available for people to stand, you logically can't have the same number of people.
"I took those actions as a responsible officer."
Mr Chester said when he left the club he told the chairman Herbert McGee and club director Keith Addy, who had responsibility for safety, about his fears.
He said he told them figures had not been adjusted on the Leppings Lane end of the ground.
Asked what their reaction was, Mr Chester said: "I can't give you specific words, but pretty much from Mr McGee was, 'OK, I'll take a note'."
Jurors have previously been told the capacity for the Leppings Lane end had not been recalculated after the first fences were introduced, splitting it into three pens in 1981.
In 1985, it was further divided into five pens following a request from the police.
Throughout those changes the capacity for the Leppings Lane end remained at 10,100.
Christina Lambert QC, counsel to the inquests, asked Mr Chester if the changes should have prompted a review of the Safety Certificate.
Mr Chester agreed it should have done and that it was "the club's responsibility" to instigate it.
The hearing continues.