Former Hillsborough chief Ch Supt Brian Mole 'the best'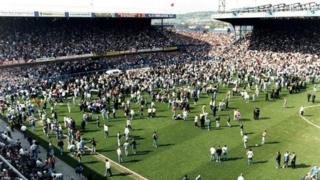 Sheffield Wednesday's ex-club secretary said the Hillsborough tragedy "wouldn't have happened" had a former police match commander been in charge.
Richard Chester told the inquests in Warrington Ch Supt Brian Mole of South Yorkshire Police was "the best".
He said he worked closely with Mr Mole and they would patrol the ground together checking crowd levels.
Mr Mole was replaced by recently-promoted Ch Supt David Duckenfield on the day of the disaster.
Mr Chester, club secretary between 1983 and 1986, said he "felt sorry" that Mr Duckenfield had "inherited that situation".
The inquests are looking into the deaths of 96 Liverpool football fans following a crush at the Liverpool v Nottingham Forest FA Cup semi-final at Sheffield Wednesday's Hillsborough stadium on 15 April 1989.
Mr Chester said it was "difficult to know what the circumstances were in 1989, not being there" but he thought his working relationship with Mr Mole would have resulted "in action being taken before we got in to a situation of severe overcrowding".
He said: "If you're going to let people through the turnstiles without controlling that central pen, it's inevitable you're going to have a problem."
Mr Chester also told the jury Sheffield Wednesday may have had "administrative failures", but it did "as well as the majority of first division teams" in terms of how it was run and controlled on match days.
Mr Chester is giving evidence to the jury for the second day.
On Monday he told the inquests he was concerned about the capacity of the Leppings Lane terraces and on two occasions had "kept back" 250 tickets from two all-ticket matches.
The hearing continues.