Hillsborough disaster came out of the blue, says fire officer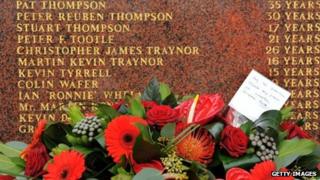 South Yorkshire firefighters "didn't see the Hillsborough disaster coming", an ex-assistant chief fire officer told the tragedy inquests in Warrington.
Alan Seaman said colleagues could not have foreseen an exit gate being opened letting in a large number of people who were not directed where to go.
The jury heard a club director claimed emergency services did not take charge on the day of the 1989 tragedy.
The fire service was responsible for stadium capacity at the time.
Fire officers sat on a committee called the Officer Working Party, which oversaw Hillsborough's safety certificate.
Ninety-six people died as a result of the crush at the Liverpool v Nottingham Forest FA Cup semi-final at Sheffield Wednesday's Hillsborough stadium, on 15 April 1989.
'Not professionally qualified'
The jury heard Sheffield City Council took over the licensing authority safety certificate role in 1986 from the dissolved South Yorkshire County Council.
The city council issued new guidelines which saw firefighters given responsibility for capacity.
But Mr Seaman said he only found out about this responsibility after the disaster, adding the fire service was "not professionally qualified" for the task which involved calculating areas and the condition of crush barriers.
He said this was better suited to building control or the police.
Nick Brown, a barrister representing seven Hillsborough families, read part of a statement from Keith Addy, a Sheffield Wednesday director from 1975 to 2007, to Operation Resolve, the police investigation into the disaster.
'Chaotic scene'
'In the statement, Mr Addy said: "I have no impression of any emergency services taking charge of the situation and can't recall seeing what emergency services were doing."
Mr Brown asked: "You did not get any impression of the services taking charge of the situation and your over-riding memory is that the scene was chaotic?"
Mr Addy replied: "Correct."
He also told the inquests that pen three - one of the ground sections where fans were crushed - "appeared full but not overly so" at kick off time
The hearing continues.