Blue-green algae at Newsham Park stops lake activities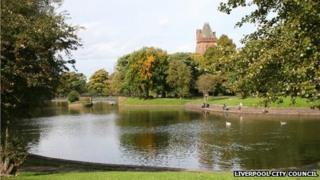 Fishing has been suspended at a Liverpool park after blue-green algae was discovered in the water.
About 30 fish have been found dead at Newsham Park, which has two lakes.
Following tests by the Environment Agency, the lakes have been closed to all activities as a precaution "until further notice", the city council said.
The organism develops naturally in certain weather conditions and can cause illness to people and animals who come into contact with it.
The Environment Agency will be carrying out further tests on the lake.
As well as fishing, the lakes at Newsham Park are used for sailing model boats, canoeing and kayaking.