Hillsborough safety fears 'dropped after £2m legal threat'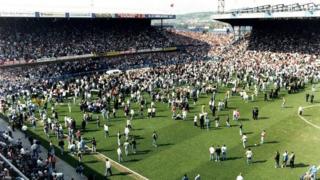 Council officials took a "political decision" not to pursue safety concerns at Hillsborough stadium after receiving a £2m legal threat, an inquest jury heard.
Environmental health officer David Moore said the 1986 construction work on Sheffield Wednesday's Spion Kop posed "a significant safety hazard".
He feared fans could "trip" or be "trampled" when leaving the ground.
But Mr Moore claimed a club engineer threatened to sue the council for £2m.
The council employee made a site visit to the stadium in August 1986 - less than three years before 96 fans died as a result of a crush at the 1989 FA Cup semi-final.
'Fans could trip and fall'
Mr Moore, who worked for Sheffield City Council between 1983 and 1988, was considering the potential development of the Spion Kop, where Nottingham Forest fans were housed on the day of the disaster.
He said a drop of up to 600 millimetres on the terrace had the potential to cause fans to trip and fall when leaving the stadium.
He also agreed with Terry Munyard, representing some of the families of the deceased, that the hazard could have led to people being "trampled" as large crowds exited.
Mr Moore said he was under the impression that his concerns would be raised at a meeting of the council's licensing panel, but was "surprised" when they were not and the club was permitted to use the new Spion Kop.
The inquests, sitting in Warrington, heard that Mr Moore believed this was due to a threat of legal action from the club's consultant engineer, Dr Wilfed Eastwood.
Describing a meeting with Dr Eastwood, during which he raised his concerns, Mr Moore said: "I think it is fair to say he quite quickly became extremely upset.
"He began shouting and he quickly resorted to a threat of litigation, and naming a figure that he would sue the council for.
"He was concerned that the club would fail to open the Kop and that would have a financial loss to the club."
Mr Moore confirmed to Coroner Lord Justice Goldring that the figure mentioned was £2m.
The then 27-year-old said he feared the development would not conform to the Green Guide - the Government-issued sports ground safety manual. He said his manager, Chris Reed, shared his concerns.
A second site visit took place which involved detailed measurements and the same conclusion was reached, and then passed to the council's then chief licensing officer, David Bownes.
Mr Moore said he later received a copy of an internal memo which questioned his role and stated "it is simply not reasonable for the fundamental basis of the design to be questioned".
He told the jury: "Naturally I was disappointed that professional safety advice had not been taken.
'Threat of litigation'
"I felt a political decision had been taken not to raise my concern."
Mr Moore also recalled a meeting at Hillsborough of the group that oversaw the ground's safety certificate in May 1988.
He said the group met with Dr Eastwood and the club's secretary and safety officer, Graham Mackrell.
He said that Mr Mackrell was "quite flippant" about the role of safety officer, which was a role the Green Guide said clubs had to fill.
Mr Moore added: "I articulated the activities he would be required to carry out on a match day and he immediately replied that he wouldn't be able to do those activities because on a match day he would entertain guests in the executive suite."
The hearing was adjourned early due to "a personal issue" with a jury member.