Widnes swan 'badly injured' in crossbow and air gun attack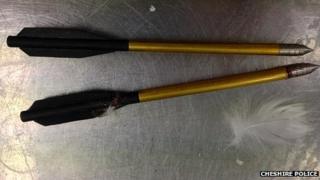 A swan has been left badly injured after it was shot twice with a crossbow and several further times with an air rifle.
The "distressed" bird was found with crossbow bolts in its head and neck on Wednesday at St Helens Canal, Widnes.
Police said it was a "miracle" the swan was still alive when it was found.
The RSPCA took the bird for emergency surgery and described it as "very poorly". Officers have asked the public to help identify those responsible.