'Failing' Liverpool GP surgery ordered to close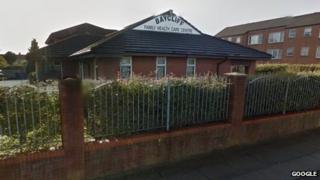 More than 1,700 patients will have to find a new GP after a failing medical centre was ordered to close.
Baycliff Family Health Centre in West Derby, Liverpool, will close next month after inspectors discovered a series of failings.
Concerns included out-of-date medication being stored at the surgery and confidential patient information held insecurely.
NHS England announced it has terminated its contract with the surgery.
The decision means the practice will no longer be registered to provide NHS care.
Sue McMillan, deputy chief inspector at the Care Quality Commission, which carried out the inspection, said: "We were extremely disappointed to find these shortfalls against national standards."
End the contract
Among other concerns found during a visit to the surgery in May, inspectors found a lack of systems in place to effectively monitor patients with long term conditions such as diabetes and mental health problems.
It was also discovered that staff had not been subjected to criminal record checks.
NHS England said it was helping the surgery's 1,760 patients find care elsewhere and had written to them with a list of other local practices.
A spokesman said: "It is with regret that we have now taken the decision to end the contract with Baycliff Family Health Centre.
"This means that with effect from Friday 11 July patients will no longer be registered with Baycliff Family Centre as the practice will be closed and they will need to register with a new practice.
"Patients currently registered with Baycliff Family Health Centre have been contacted by letter in relation to the termination of the contract."