Hillsborough capacity 'too high' ahead of disaster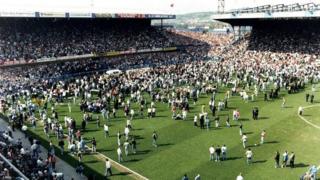 The capacity of the Leppings Lane end of Hillsborough was overestimated by more than 1,700 before the 1989 disaster, an inquests jury heard.
A structural engineer said the capacity of the west terraces should have been 5,425, rather than the 7,200 stated on the ground's safety certificate.
John Cutlack also said the way barriers were arranged did not meet guidelines.
Ninety-six Liverpool fans died following a crush in the stand during the 1989 FA Cup semi-final.
Giving evidence at the Warrington inquests, Mr Cutlack said "some of the seeds of this disaster" were sown as early as 1979, when the ground's safety certificate was first issued.
'Safety failings'
He said pens 3 and 4, where the victims were standing, should have had capacities of 680 and 780 respectively.
That compared to the limits of 1,000 and 1,200, which were informally enforced in those pens.
Mr Cutlack is a chartered structural engineer who has worked on football grounds including the home grounds of Tottenham Hotspur and Newcastle United.
He also worked on the London 2012 Olympic Stadium and the retractable roof at Wimbledon's Centre Court.
He said that the capacities at Hillsborough should have been changed because the heights of four of the 13 crush barriers in pens 3 and 4 were "substantially too low".
Another three were "marginally too high", while the remainder were within the safety guidelines.
The government had issued guidelines for maintaining safety at sports grounds in a book called the Green Guide. The first edition was published in 1976 and it was updated in 1986.
Hillsborough was designated as a ground needing a safety certificate in January 1979.
That certificate was granted in December that year, stating the capacity of the Leppings Lane terraces as 10,100. That included 7,200 on the west terraces and a further 2,900 in the north west corner.
Fence gates 'too narrow'
Mr Cutlack said the north west corner's capacity was about 600 higher than was safe and the gates in the perimeter fence at the ground were not wide enough.
"It's important to go back to 1979 because some of the seeds of this disaster were sown in 1979. One of these is the height of the barriers," he said.
"I will show you later on that these barriers did not comply with guidance given either with the 1976 or 1986 Green Guides in relation to height and that had a major impact on the capacity of the terrace."
Later during Tuesday's hearing, Mr Cutlack said a crush barrier which collapsed during the disaster did so because of the weight applied to it, not because it was faulty.
The force that made parts of barrier 124a collapse was '8 to 9 kilonewtons per metre' - equivalent to dropping a 500kg bench press on to someone's chest.