Hillsborough terrace 'safe capacity' reached before more fans let in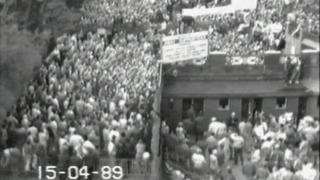 The "safe capacity" of a pen at Hillsborough was reached at about the time a gate was opened to let more than 2,000 fans through, the inquests heard.
A breakdown of timings showed 678 fans were in pen three on the Leppings Lane terrace at 14:52 when the exit gate was opened for more than five minutes.
Up to 1,430 fans were in the pen after the "safe capacity" was breached.
Expert engineering witness John Cutlack agreed it was "virtually impossible" for fans to move once inside.
Ninety-six fans died as a result of the crush at the 1989 FA Cup semi-final.
'Cages'
Mr Cutlack said a Health and Safety report found a crowd density of 100 people per 10 sq m in parts of pen three, when it should have been no more than 54.
Michael Mansfield QC, who represents some of the Hillsborough families, suggested to the structural engineer, that 678 was "a rather poignant figure".
Mr Cutlack said: "Yes. That is exactly the figure that I calculated as the safe capacity."
Mr Mansfield suggested the capacity had been reached at or about the time the gate was opened, the inquest jury in Warrington heard.
Mr Cutlack said: "It had reached what I considered to be the safe capacity."
He agreed with Mr Mansfield that it would be "virtually impossible" to move out of the pen.
The barrister said that anyone who looked at the "cages" could readily identify that.
"I think that should have been evident," Mr Cutlack replied.
The hearing continues.