Liverpool man jailed over Knowsley police chase heroin find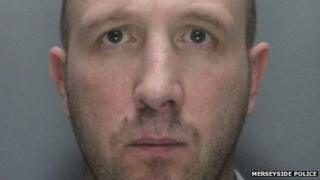 A man who sparked a police chase after he refused to stop his car because there was heroin with a street value of about £1m in the boot has been jailed.
Ian Hayton, 43, from Liverpool, was given eight years after he admitted possessing Class A drugs with intent to supply and dangerous driving.
He was spotted using a mobile phone while driving in Knowsley on 10 February, Liverpool Crown Court heard.
About 44lb (20kg) of heroin with a book of names of drug deliveries was found.
The police pursuit began on the Knowsley Expressway when Hayton drove off in a "reckless manner" when officers told him to pull over, police said.
Hayton, of Danefield Road, Garston drove his Toyota Yaris through several red lights and was speeding down busy streets while continuing to use his phone.
He was stopped at the junction of Higher Lane and Mackets Lane and arrested.