Liverpool Metropolitan Cathedral choir sings for Pope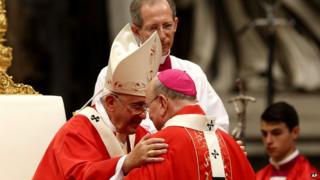 Choristers from Liverpool Metropolitan Cathedral had a special appointment when they sang for Pope Francis.
The cathedral choir were singing at a Mass when their archbishop received his pallium - a lambs wool band symbolising his office - from the Pope.
The Rt Rev Malcolm McMahon, 64, was installed as the ninth Archbishop of Liverpool in May.
Twenty-three other archbishops will also receive the pallium, including Edinburgh's Archbishop Leo Cushley.
Archbishop Cushley replaced Cardinal Keith O'Brien, who stood down in February last year after admitting sexual misconduct.
The 45-strong choir of teenage boys and girls and older males accompanied Archbishop McMahon as he received the band around his neck at a Mass in St Peter's Basilica in Rome.
Cathedral Dean Canon Anthony O'Brien said: "We are very proud that our choir's dedication and talent are recognised in this invitation to sing in Rome for the Pope and Archbishop Malcolm."
The last time Liverpool's archbishop received a pallium was in 1996 following the appointment of Archbishop Patrick Kelly.
Archbishop McMahon succeeded Archbishop Kelly, who stepped down in January 2013.
The archdiocese covers Liverpool, the south west of Greater Manchester, south-west Lancashire and the Isle of Man.