Swan shot with crossbow is ready to be released into the wild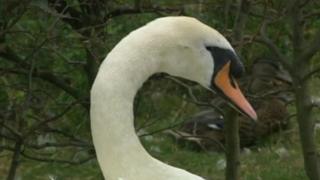 A swan shot twice with a crossbow and several times with an air rifle has now recovered enough to be released into the wild, the RSPCA said.
The "distressed" bird was found with crossbow bolts in its head and neck on 18 June at St Helens Canal, Widnes.
One of the crossbow bolts hit the swan's windpipe and a valve was put in its side to allow it to breathe.
Bev Panto, from the RSPCA, said: "That wound healed really well and so we were able to take the valve out."
The injured bird can now feed and swim and is recovering with other swans at an RSPCA hospital in Nantwich.
Vets said the swan would be released back into the wild in "about a week".
Cheshire Police have appealed for people to "search their conscience" and come forward if they have any information about who carried out the attack.