Hillsborough match commander switch after police 'prank'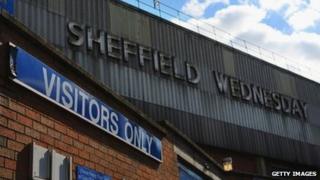 The police match commander for Hillsborough moved jobs weeks before the 1989 disaster, amid fallout from a police "prank", an inquests jury heard.
Ch Supt Brian Mole transferred to Barnsley ahead of the FA Cup tie "for career development", it was claimed.
Ex-Ch Insp David Beal told the hearing he did not believe Mr Mole's move was linked to the 1988 police incident.
During it a probationary PC was blindfolded, handcuffed and led to believe he was threatened with a gun.
Fresh inquests into the deaths of 96 Liverpool supporters are taking place in Warrington, Cheshire.
The court heard four officers were forced to resign and seven were disciplined in the aftermath of the incident, which involved staff at Hammerton Road police station.
The constable also had his trousers pulled down and was photographed, the inquests heard.
Mr Mole, who had been match commander at Hillsborough in 1987 and 1988 was moved to Barnsley on 27 March 1989 ahead of the stadium disaster on 15 April.
'Highly experienced officer'
Patrick Roche, representing some of the bereaved families, asked Mr Beal whether the now deceased Mr Mole was moved to Barnsley because of their unhappiness about how the fallout from the incident had been handled.
Mr Beal answered: "That's not my knowledge of it. I understood he was transferred for career development reasons."
Mr Roche said: "Certainly, for whatever reasons, it was somewhat surprising that he was transferred with immediate affect from 27 March - so during the period between the selection of the game and the match itself?"
Mr Beal replied: "It was surprising to me, yes."
Mr Roche added: "Because Ch Supt Brian Mole was a highly experienced officer?"
"Absolutely," said Mr Beal.
Mr Mole could have continued in his role as match commander at Hillsborough in 1989 despite his transfer, said Mr Beal.
He was replaced by Ch Supt David Duckenfield, who had little experience in the same role.
Mr Beal, who did not give evidence at either the Taylor Inquiry into the disaster or the original 1991 inquests, drew up the operational plans for the 1987, 1988 and 1989 FA Cup semi-finals staged at Hillsborough.
'Eve-of-battle speech'
The hearing also heard from Timothy Mitchell, a serving inspector for South Yorkshire Police.
He remembered Mr Duckenfield giving officers a briefing in the car park at Sheffield United's Bramall Lane before the disaster on a date he could not recall.
He said: "In broad terms he said something along the lines of 'we don't want any fighting and if there is any fighting to be done it is going to be done by the police not the fans' - which tended to stick in my memory at the time...because I had not really heard any comment made like that in the setting of a formal briefing before."
Jonathan Hough QC, counsel for the inquest, asked Mr Mitchell what he thought the comment meant.
The witness replied: "It felt like it was rather a silly, eve-of-battle speech.
"I think it served to raise the volatility of the police officers on duty, it was certainly unnecessary. You don't need to be told anything like that."
The inquests resume.