United Utilities defends bird cull for biting staff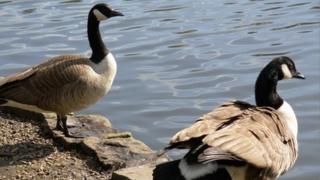 Around 60 geese have been culled at United Utilities headquarters near Warrington because they bit staff, the water company said.
The Canada geese were killed after several attacks at Lingley Mere business park in Great Sankey, which also house a children's nursery.
A company spokesman said the decision to kill the birds had been difficult.
But animal rights campaigners claim it could have used other methods to address the problems.
The United Utilities spokesman added: "It was important we took action to encourage other wildlife to thrive and stop people being injured.
"Several staff have been hurt after being bitten by the birds, which was very worrying as we have a children's nursery on our land."
'Damage claim'
The company said that the birds were also damaging the environment.
"The grounds were littered with faeces, which was both unpleasant for people and led to high levels of phosphate in the lakes," the spokesman explained.
"This also increased algae and prevented pond weed from growing, which lowers oxygen levels and can kill fish."
But Andrew Tyler, director of animal rights group Animal Aid criticised the move.
"We were contacted by local person who was very distress at what happened. They carried this out in secrecy and at night," he said.
Mr Tyler added: "We've heard all of their reasons before - there are alternatives to culls such as planting rushes at the water's edge or even moving the birds."
The Royal Society for the Protection of Birds said it believed "lethal control" should be a last resort.
It is understood United Utilities had tried preventing eggs from hatching but this had a limited effect and relocating the birds had proved impractical.