'No obvious control' at Hillsborough, officer says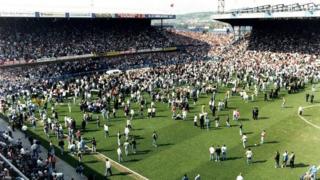 A former police constable resuscitated a fan who had been "left alone, unattended, potentially to die", the Hillsborough inquests heard.
Arthur Davies was outside the stadium on the day of the disaster, when he was radioed to go into the ground.
There was "no obvious control" inside Hillsborough, so he gave fans first aid - the first had died but another had a "weak pulse but was not breathing".
When Mr Davies reached the gym there were 20 bodies being stored there.
'Total confusion'
The ex-paratrooper, who had done six tours, had some "very frightening experiences" but was "shocked" by events on 15 April 1989, the inquest jury in Warrington head.
Ninety-six fans died as a result of the crush at the 1989 FA Cup semi-final between Liverpool and Nottingham Forest
The former army medic went into the stadium from Penistone Road and saw casualties on the pitch.
He said: "All I saw was a crowd on the pitch, which is totally unusual - is it a pitch invasion? I just didn't know what to think."
In a statement, Mr Davies said there was "total confusion" inside the ground.
Pete Weatherby QC, who represents a group of Hillsborough families, asked: "Was there any obvious control?"
Mr Davies replied: "Not that I could see."
He then started to help causalities and put a fan who had died into the recovery position.
Another was not breathing so Mr Davies gave him mouth-to-mouth and asked another spectator who was "in shock" to help him and showed him how to do chest compressions.
Stephen Simblett, who represents another group of Hillsborough families, said: "Between the two of you, you got him breathing. His chest was rising and falling, as you have described.
"You then felt briefly satisfied that you had been able to resuscitate somebody who had hitherto been left alone, unattended, potentially to die?"
Mr Davies replied: "Correct."
The jury heard Mr Davies helped another two fans and then made his way to the gym, which was being used as a temporary mortuary, where 20 bodies were being held.
Mr Davies had not seen or been directed by any paramedics about treating people in need of medical attention on that pitch, the inquest jury heard.
He agreed that his military background and training meant that he was able to do more than some of his police colleagues.
The coroner's court heard Mr Davies saw fans carrying bottles or cans of alcohol, the mood was "good natured" and there was "nothing out of the ordinary".
The hearing continues.