'Unique' Liverpool pigeon related to dodo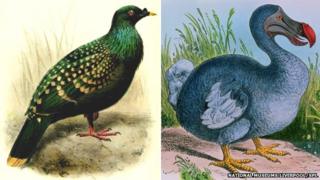 A 230-year-old pigeon held in a Liverpool museum collection has been found to be unique and related to the long extinct dodo.
A team in Australia looked at fragments of DNA from the World Museum's spotted green pigeon as part of a study.
They found the bird, also known as the Liverpool pigeon, was the only remaining example of its species.
Curator of vertebrate zoology Clem Fisher said it was good the bird now had its "correct place in the world".
The pigeon is thought to have been gathered in Tahiti in 1783, when it was described by English doctor John Latham, and is presumed extinct, as no sightings of it have been made since the 1920s.
Dr Fisher said scientists from Griffith University in south-east Queensland had compared "small fragments of ancient DNA from tiny pieces of feather" with those of other species.
She said the study had revealed that the Liverpool pigeon was "unique and a distant relation to the Nicobar Pigeon, the Rodrigues Solitaire and the Dodo of Mauritius".
Three of the four birds are extinct, with only the Nicobar pigeon surviving to the present day.
The Liverpool pigeon, which is usually kept in environmentally-controlled conditions in the museum's archives due to its sensitivity to light, has been put on public display for two weeks.