Liverpool Giants: The life of a Lilliputian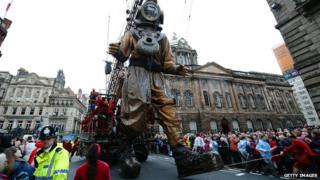 As spectacular as the Giants show in Liverpool promises to be, organisers say it would be nothing without its army of "Lilliputians", the people who animate the huge marionettes.
Some are members of the Royal de Luxe street theatre company, but many are volunteers, drawn by the magic of the marionettes to offer their services.
Colin Bordley helped animate the diver giant in 2012's Sea Odyssey show and will be turning out again for Memories of August 1914, this time as a cymbals operator.
The 46-year-old, from Wallasey, says he first became interested when he happened across footage of Royal de Luxe's English debut in London in 2006.
"Having seen a short video about The Sultan's Elephant, I knew I wanted to work with the people who had created such fantastic machines."
His interest led him to volunteer for La Princesse, Liverpool's first giant extravaganza, which saw a different street theatre company walk a huge spider around the streets in 2008.
"When I heard there would be another Giants event and they wanted people to actually swing on the ropes, making the giants move, it sounded like the chance of a lifetime," says Mr Bordley.
But while the experience was "definitely fun", he says he did not expect how hard the volunteers had to work.
"Nothing really prepares you for the incredible amount of physical exertion involved - I ached all over by the end.
"When you jump off the platform, you find yourself kicking your legs up and pulling down on the rope as you descend and the lactic acid really builds up.
"After about a mile or two, you're running on adrenaline and the encouragement of your mates."
'Real showmen'
The full-time members of the Royal de Luxe crew were particularly welcoming and, despite fears of a language barrier, Mr Bordley says they helped the volunteers in 2012 - and would do again.
"They paired up with us and showed us how to handle the equipment and throughout the event, they encouraged everyone," he says, describing them as "real showmen".
"Every time they jumped, they'd give a massive cry and land with a flourish of arms, a cheer and a flamboyant bow, before getting back on to do it all again.
"It really threw the rest of us. There were a few comments of 'they didn't do that in rehearsals' exchanged as we realised our comrades had raised their game and were upstaging us.
"However, their enthusiasm was infectious and our competitiveness overcame any British reserve.
"We couldn't help taking up the unspoken challenge and adding our own flourishes - and the more we threw ourselves into the role, the more the French guys cheered us on.
"They were undoubtedly better but the whole cycle of competitive rope-pulling, flamboyant landings, salutes and cheering quickly became a self-perpetuating source of energy for everyone."
He says the crowd also played an important factor in 2012, particularly when fatigue set in as they progressed through Anfield and into the city.
"As we reached St George's Plateau, this massive roar suddenly erupted all around us and we were met with a sea of cheering people, roaring their approval, as far as the eye could see," recalls the volunteer.
"In that moment, all our tiredness and pain was forgotten and we leapt and pulled to make the uncle stride in in a blaze of glory, giving all those people the spectacle they'd been looking forward to."
Mr Bordley says that this time around, things will be "a little different because I am operating the giant cymbals".
"They work in the same way as the other giants - you grab the rope and jump to make the cymbals clash and then run around and get back on the truck to do it again.
"But it's going to be more demanding because while the giants have 12 or so helpers, there are only five of us on the cymbals so we have to go much faster.
"We also have to follow the beat - it is not going to be easy."
Moving the giants
Royal de Luxe are famously secretive about how exactly the giants work to ensure their appearance has an "audacity and poetry"
They are built from poplar and lime wood - or, in the case of the dog, steel and papier-mâché - and are driven by ropes and pulleys hanging from a crane-carried metal frame.
Their structure and mechanism is similar to that of small stringed marionettes
The Lilliputians - the mix of company members and volunteers - move the giants with a combination of brute force, simple physics and flamboyant artistry
Twenty-six help move the grandmother - with four moving her wheelchair - while 22 drive the little girl and 20 move the dog
To get it right, Mr Bordley says there has been plenty of practice, which has meant returning to the same rehearsal site and seeing the giants again, which has brought back "many happy memories".
He also hopes this is not the last time he gets to work with the marionettes.
"There is such a wealth of effort and imagination involved in staging this event and there is no effort wasted or roles that don't play a crucial part in helping make the show a success," he says.
"Rehearsals are long and hard work but, when you put all the elements together and add in the crowds of excited visitors cheering you along, it becomes an experience like no other.
"It's addictive and no matter how tired you get, or how many times you find yourself thinking 'I must have been mad to think I could do this', you keep wanting to go back for more.
"I really do hope they come back again soon because I would love to work with them again."
BBC News Online will be following the giants through Liverpool with live text coverage, pictures and video of events. For more details, visit the BBC's dedicated Liverpool Giants page.