Hillsborough control box PC denies witnessing cover-up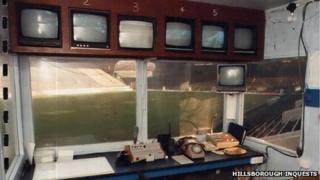 A former PC who was inside the police control box at Hillsborough has denied witnessing the start of a "cover-up".
The Hillsborough inquests heard Michael Ryan failed to mention a meeting between the match commander and an FA official in a statement in 1989.
At that meeting Ch Supt David Duckenfield "lied" about fans breaking through a gate, a barrister claimed.
A subsequent statement by Mr Ryan in January 1990 said he recalled the meeting, though not what was said.
The inquests are being held into the deaths of 96 Liverpool supporters who went to the FA Cup semi-final at Hillsborough on 15 April, 1989.
'Totally untrue'
The jury heard no-one working inside the police control box initially recalled the meeting taking place.
Mr Ryan denied he "unwittingly and probably unwillingly" witnessed "the cover-up".
The jury heard that after the match was halted, Graham Kelly, the chief executive of the FA, went to the police control box at about 15:15 GMT to ask for information.
Graham Mackrell, the secretary of Sheffield Wednesday, was also there, the inquest heard.
Referring to this meeting in his opening remarks, coroner Lord Justice Goldring, told the jury: "Ch Supt Duckenfield said there were fatalities and the game was likely to be called off.
"He also said that Gate C had been forced, [and] that there had been an inrush of Liverpool supporters."
In notes made on 16 April that year, Mr Ryan made no mention of the meeting between Ch Supt Duckenfield, Mr Kelly and Mr Mackrell, the jury heard.
Mark George QC, a barrister representing a group of Hillsborough families, said the meeting was "deliberately omitted" from his statement.
This was "totally untrue", Mr Ryan said.
Mr Ryan was also questioned by Christopher Daw QC, who represents the officers who presented South Yorkshire Police's evidence to the Taylor Inquiry into the disaster.
The jury heard Mr Ryan attended a briefing on 16 April 1989, at which he and other officers were given instructions about their evidence.
Mr Daw asked Mr Ryan if he was told to record "absolutely everything" he could remember.
Mr Ryan replied: "Yes, virtually. We were told to go away and write down our recollections individually."
Paul Greaney QC, who represents the Police Federation, asked Mr Ryan if he knew who Graham Kelly was, either by face or by name, on the day of the disaster.
Mr Ryan said he did not know Mr Kelly at the time.
He told the inquest he did not believe the other people in the control box conversation had any particular loyalty to Mr Duckenfield, or any reason to participate in a cover-up.
The inquests, being held in Warrington, Cheshire, continue.