Heap's Rice Mill in Liverpool given Grade II-listed status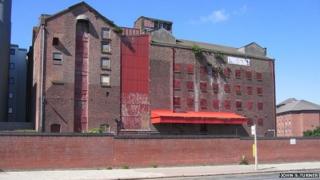 A derelict Victorian warehouse in Liverpool threatened with demolition has been saved after it was granted Grade II-listed status.
Developers had planned to knock down Heap's Rice Mill, on Beckwith Street, and build on the site but the move faced significant opposition.
Uses for the site, which dates back to the 1780s, included preparing rice for Kellogg's Rice Krispies.
It was granted its status after an inspection by English Heritage.
In its report, the public body said: "Heap's Rice Mill is not only one of the earliest, but one of the last surviving warehouse complexes in this area, serving as an important physical reminder of the area's rich trading links and mercantile history."
Peter Brown, chair of Merseyside Civic Society, said: "We are extremely pleased the process is now completed with a positive outcome.
"The building has a lot of character, so we are keen to attract a developer who will retain as much of the architectural features and the interior as possible," Dr Brown said.