David Cameron gives award to Dale Farm volunteer Dave Nash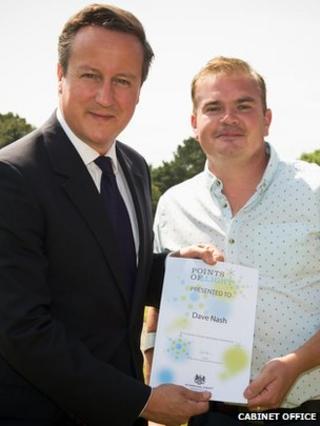 A farm volunteer who has spent 16 years helping people with disabilities and mental health issues has been honoured by Prime Minister David Cameron.
Dave Nash first went to Heswall's Dale Farm after he broke his back in a crash when he was 20 and was so impressed, he vowed to help others there.
Sixteen years on, he has been handed a Point of Light Award to recognise more than 1000 hours he has given.
Giving him the award, Mr Cameron said he was "hugely impressed".
Mr Nash, who helps manage the farm and uses his background in horticulture to educate groups there, is the 75th person in Britain to be given the award, which honours outstanding individual volunteers.
'Natural leader'
He said it was a "huge honour to be recognised".
"Dale Farm provides an invaluable service and I am proud to be part of the team," he explained.
"I hope to continue to offer support to the farm for many years to come."
The farm's deputy manager Colin Smith said he was really pleased Mr Nash had been given the award because he was "an incredibly nice guy who is totally committed to Dale Farm".
"Dave is a natural leader and his ability to share his knowledge, skills and bring out the best in others has been key to his and other people's success at Dale Farm."