Man trapped in Formby beach sand dunes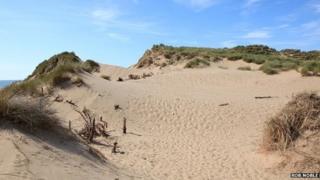 A man was buried under 6ft (1.8m) of sand when a dune ledge above him collapsed as he was digging on a beach.
The 35-year-old man was on Formby beach in Merseyside when he became trapped after a child dislodged a sand dune above him.
Lifeguards, who came to the rescue, said he was left with "a small pocket of air" that enabled him to breathe.
Once free, he was given oxygen and was said to be unhurt but "shaken" by Monday afternoon's incident.
RNLI lifeguard supervisor Matthew Jessop said: "Although sand dunes may look like enticing areas, we urge people to resist the temptation to play on them or dig into them.
"The sand is often very unstable and can collapse at any time, trapping anyone on or below it.
"The man was incredibly lucky that there was a small pocket of air within the collapsed sand to enable him to breathe - otherwise the situation could have been much worse."