Hillsborough disaster: Police horse 'fell to its knees'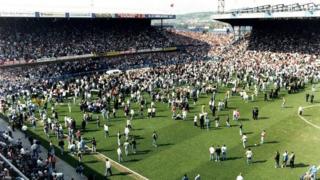 A police horse fell to its knees because of the force of the crowd outside the Hillsborough stadium, the inquests into the 1989 tragedy heard.
Steven Thomas, the first mounted officer to give evidence, said supporters outside the Leppings Lane turnstiles were "packed like sardines".
They "swarmed" around his horse Sandhurst and his colleagues.
Ninety-six fans died following a crush during the Liverpool v Nottingham Forest FA Cup Semi-Final in Sheffield.
Mr Thomas, a retired sergeant, added: "The people were just coming around the horse.
"They were disregarding the horse - trying to get to the back in the throng of people."
He added: "If you asked them to stop pushing, they totally ignored you as though they disregarded your presence."
He estimated that police lost control outside the stadium between 14:15 and 14:30 when fans who were on a special train from Liverpool arrived in Leppings Lane.
---
Who were the 96 victims?
BBC News: Profiles of all those who died
---
Mr Thomas said he cried out "emergency, emergency"' into his radio to try to raise someone in the control room.
He said he was trying to get through for five minutes, or "probably longer".
He and other mounted officers tried to form a cordon across a set of gates between Leppings Lane and the turnstiles.
"At one stage there was that much pressure from the left hand side that the horse got pushed to its right and the blue gates just sprang open.
"The horse fell down or went down on to its knees," he said.
The inquests, in Warrington, continue.
Clarification 19 September: In evidence given later on Thursday, a second mounted officer, Keith Wilkinson, denied changing his statements to include more references to fans drinking.