Hillsborough disaster: Sergeant's criticism 'removed' from statement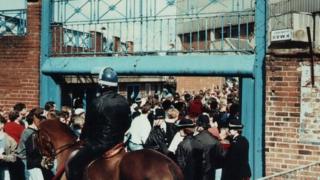 The altering of a sergeant's statement after the Hillsborough disaster was "possibly" an attempt to mislead an inquiry, the inquests jury has heard.
William Crawford said he only found out in January that comments criticising the low number of officers at the Leppings Lane end had been "expunged".
They were removed before his statement was sent to Lord Justice Taylor's 1989 public inquiry into the disaster.
The retired officer said he was "not very happy" at discovering the changes.
In the statement, Mr Crawford also questioned why no officers were placed at the tunnel to direct fans away from the central pens of the terraces where the disaster unfolded.
He agreed with Mark George QC, who represents a group of Hillsborough families, the decision whether or not to close the tunnel was "absolutely critical".
Ninety-six fans were fatally injured in the pens on the Leppings Lane terraces during the Liverpool v Nottingham Forest FA Cup semi-final at the Sheffield stadium on 15 April 1989.
The former sergeant was on duty between the turnstiles and the terraces on the day.
'Observation, not comment'
The court was told that in his original statement, produced after the disaster, he wrote: "I personally thought we were very light on manpower at this end compared with previous years.
"I have worked at this end of the ground, either outside the turnstiles, inside searching or in the West Stand for several years at cup ties, FA Cup semi-finals and league matches, with a lot more manpower.
"In fact, I have seen more manpower at this end during league matches.
"Normally, we have had a serial [a group of officers] at the centre tunnel to direct fans to the North or South pens when the centre pens had been filled.
"This was not the case at this match and several of my serials remarked on this."
The jury was told the same number of officers patrolled the area in 1989 as had for the previous year's semi-final, which also saw Liverpool fans use the Leppings Lane end.
---
Who were the 96 victims?
BBC News: Profiles of all those who died
---
The court heard the paragraphs were crossed out and did not form part of his official statement, which was given to the Taylor Inquiry.
He agreed the inquiry seeing only his amended statement was "potentially extremely misleading" to the inquiry.
The court was told Mr Crawford's statement was changed after South Yorkshire Police received advice from its lawyers, Hammond Suddards, about his and other officers' accounts.
Documents were shown to the jury which showed the firm justifying the advice by stating the passages were "comment and irrelevant".
Mr Crawford said it had been "observation, rather than comment" and had he known about the decision to remove it, he would have "insisted it remained".
The inquests in Warrington continue.