Hillsborough Inquests: Senior police 'diverted blame'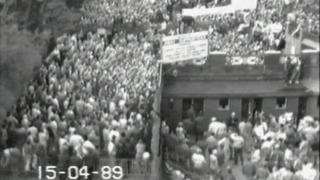 Senior South Yorkshire Police officers tried to "divert the blame" for the Hillsborough disaster on to lower-ranking colleagues, the inquests heard.
PC Fiona Nicol "always felt" she and others on the ground were "singled out" as "scapegoats".
She was not aware a major incident plan had been in place, saying "everybody realised too late" about the disaster.
Ms Nicol gave first aid and went to hospital with two casualties in an ambulance driven by a police officer.
Ninety-six fans died as a result of a crush at the match between Liverpool and Nottingham Forest on 15 April 1989.
---
Who were the 96 victims?
BBC News: Profiles of all those who died
---
After the disaster, Ms Nicol described being "extremely intimidated" by a senior officer as she wrote her account of the day.
The inquest in Warrington heard the officer kept interrupting her to read what she had written.
He later questioned her description of the central pens behind the goal being "full", the jury was told.
Ms Nicol, now known Fiona Richardson, had been on duty at the Leppings Lane end in front of terraces filling up with Liverpool fans.
'Police scapegoat'
Rajiv Menon QC, who represents a group of Hillsborough families, asked whether police officers in front of the central pens "seemed to realise" far too late what was happening.
Ms Nicol said: "I would say both for them and me also, we were all too late.
"Everybody realised far too late."
She said at the time of the 1989 Taylor Inquiry - which was set up in the aftermath of the disaster to establish the cause - she was "told by a few people... 'they're trying to blame you'."
Ms Nicol said: 'I've always believed that South Yorkshire Police were trying to scapegoat - yes, me.
"But once the Taylor Inquiry got under way, it didn't work out their way [and] I got left alone."
"I've always felt aggrieved towards senior officers in South Yorkshire Police, who I believe tried to divert the blame for what happened on officers on the ground and on the fans," she said in a recent police statement that was read to the court.
The court heard Ms Nicol attended a briefing by the match commander Ch Supt David Duckenfield on the morning of the disaster.
"He wanted the match to go off smoothly. They didn't want any upset happening at the match," she said.
The court heard the written police orders for the day - known as the operational order - said the gates in the pitch perimeter fencing could be opened if a fan needed medical attention.
Ms Nicol said she never saw that order but agreed it would be "common sense", adding "it would be stupid not to".
During the course of the day, Ms Nicol said she opened a gate into one of the pens to allow a cub scout leader with six or seven children out.
She could not be sure if the gate led out of pen three, in which much of the crushing took place, or the less dense pen two, the jury was told.
'Fans helped me'
She said she feared getting into "trouble" by opening the gate but took the decision because "it was children being upset".
After letting them out of the pen, she walked them down to the corner of the pitch to sit with St John Ambulance medics.
Later she helped carry casualties off the pitch on makeshift stretchers.
She described her first aid training as "inadequate". She had never used it before that day and was "not confident" about doing so, the jury heard.
Ms Nicol said she had not received training in policing a football match and was not aware of any major incident plan for the day.
"The fans were helping me more than [my colleagues] - the fans were helping me a lot and when I walked around I did see police officers and fans all giving CPR.
"But there were obviously a lot of people that were just stood around as well, including unfortunately both police officers and fans," she said.
Ms Nicol went to Royal Hallamshire Hospital with a "lad who was having trouble breathing" and another who had "either a broken arm or crushed ribs".
The jury also heard from Valerie Yates, a Liverpool fan who was 20 at the time of the disaster and survived being in pen four.
She described how the crowd went from the excitement of the match build up to the "frightening situation" and "mayhem" of the crush.
She also criticised how West Midlands Police officers interviewed her after the disaster, saying it was "unreal" how many times they asked how much she had had to drink.
Mrs Yates said: "It was just a battle to try and stay on your feet and stay breathing. It was just stay on your feet, stay breathing, don't go down."
Mrs Yates described having a "near-death experience" during the crush.
"The weight of the crowd was forcing me down and the pressure on me and I knew I was moving down," she said.
"I ended up on the floor losing consciousness. I was unconscious, but I had given up and I knew I wasn't breathing and I had sort of gone down this tunnely thing with music playing. It's really weird."
After recovering she helped tear down an advertising hoarding and use it as a makeshift stretcher to carry injured fans off the pitch.
Describing her interview with West Midlands Police, Mrs Yates said: "All they wanted was my ticket and how much had I been drinking.
"Had I got a ticket, did I have a drink, did I see any fighting, did I see anybody drunk. But all the time they kept harping back to my ticket, my ticket, had I had a drink and they must have asked that so may times it was unreal."
The inquests continue.