Elemir Lakatos: Liverpool knife attacker shot by police is jailed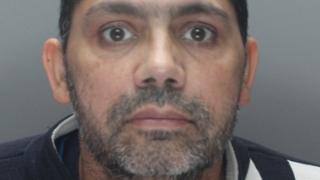 A man shot by police after holding his ex-partner hostage at knifepoint has been jailed for eight years.
Elemir Lakatos, 47, of Anfield, also used an imitation gun to threaten the woman during a siege at a house in Dovecot, Liverpool in May.
Liverpool Crown Court heard he tied his ex-girlfriend to a chair telling her children to give her "one last kiss".
He was found guilty of 11 offences including unlawful imprisonment and making death threats which he admitted.
Speaking through an interpreter, Lakatos, from the Czech Republic, apologised for the incident.
BBC Radio Merseyside's Phil Cooper said he wiped away tears saying: "I'm very sorry, I have done terrible things."
He then asked his former partner if she could find it in her heart to forgive him.
Shot in chest
The woman, who cannot be named for legal reasons, said the "petrifying" ordeal he subjected her family to would haunt them for the rest of their life.
"I can still see the horror on my children's faces when they saw me bound to a chair and Elemir brandishing a knife close to my throat.
"It is every mother's worst nightmare being unable to protect your children from such a terrifying situation.
"I truly believed that Elemir was capable of killing me and that I would never see my children again."
She said her son "constantly asks if Elemir can get out and get us" and her daughter feels guilty she did not do more to protect her.
Although she said she was trying to rebuild their lives she said she was "still living in fear".
Det Supt Karen Cummings said Lakatos' actions had a "profound impact" on his victims and they are still having nightmares as a result.
She said: "No-one, let alone children, should have to endure such an ordeal."
After a siege situation developed, armed officers stormed the house using smoke bombs and shot Lakatos in the chest in an attempt to disarm him.
Passing sentence, Judge Clement Goldstone QC said Lakatos, of Cambria Street posed a "significant risk to the public of committing further offences".
The shooting is being investigated by the Independent Police Complaints Commission (IPCC).