Birkenhead man jailed for 'brutally violent' puppy attack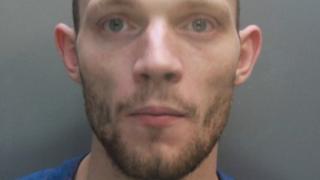 A man who broke the front legs of a puppy in a "brutally violent" attack which led to it being put down, has been jailed for 24 weeks.
Stefan McCormick, 23, of Birkenhead, is already serving a 20-month sentence for hitting his ex-partner.
McCormick admitted causing unnecessary suffering to an animal at an earlier Wirral Magistrates' Court hearing. His jail terms will run consecutively.
He broke the four-month-old dog's legs with a blunt object in December.
The RSPCA said the Staffordshire Bull Terrier was found abandoned on the road but an investigation traced it back to McCormick and he eventually admitted it was his dog.
'Brutally violent'
When confronted about the dog's condition, he claimed it had fallen off the sofa.
The RSPCA said the dog suffered physical and psychological abuse over a "prolonged period" and neighbours heard it "screaming in distress".
Inspector Anthony Joynes said: "It was one of the most brutally violent cases I have ever dealt with and it will stay with me for a long time."
He said he was grateful magistrates passed the maximum sentence "to recognise the seriousness and brutality of the crime".
Last week McCormick, of Devonshire Road, was sentenced at Liverpool Crown Court for assault causing actual bodily harm on his ex-partner and breaching a non-molestation order.