Hillsborough Inquests: Fan 'dumbfounded' by emergency response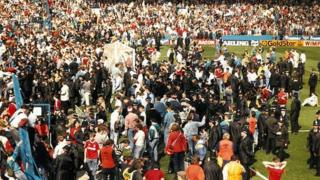 A Liverpool fan has told the Hillsborough inquests he was "dumbfounded" at the lack of help given to supporters as the disaster unfolded.
London firefighter Anthony O'Keefe said he left his seat and went onto the pitch to assist the injured.
Mr O'Keefe, who also helped at the King's Cross Tube disaster in 1987, said he was "amazed" by the lack of an effective emergency response.
He described the situation on the day as "really frustrating".
Mr O'Keefe said he left the stand above the terraces, where 96 fans were fatally injured, to help as soon as the match was abandoned.
"I was dumbfounded, the fact that by the time I got on the pitch, it was enough time to get some emergency response," he said.
'So isolated'
He said he saw a local firefighter and asked him where the other fire crews were.
"He said a phrase, something like, 'there's 10 or 12 appliances outside, they think there's a major riot going on'. By then, it was getting really frustrating."
He described how he was given a green First Aid armband by a St John's Ambulance volunteer and told to "go and see what you can do".
"What I witnessed was something unbelievable. There was so many that was in need of care, I felt so isolated.
"There's people lying all over this pitch and a line of police officers right across the middle and some police officers here helping with fans."
He said there was "no great organisation" to the emergency response, adding: "I would not want to use swear words but it was absolute chaos.
"It just beggars belief. I was just amazed at the lack of emergency response."
---
Who were the 96 victims?
BBC News: Profiles of all those who died
---
Mr O'Keefe went on to describe how he gave chest compressions and mouth-to-mouth resuscitation to a number of supporters before helping carry an injured fan to the stadium gymnasium, which had been turned into a casualty station and mortuary.
He said the gym was also "chaos", adding: "The thing I will always remember is the way there was bodies just laid out in a strange order.
"[They were] in rows. Dead and alive in the same vicinity."
Earlier, the jury heard from former police inspector Robert Purdy who was continuing his evidence from Tuesday.
He spoke about the situation outside the Leppings Lane turnstiles, where he was stationed on the day.
He said fans had "created a problem" by their "sheer volume" and "a loss of the personal responsibility that everybody holds when they're moving", adding a large number had arrived "almost at the same time" and those at the back were pushing forward in a "mass tide of people".
Asked about Supt Roger Marshall, who had responsibility for fans outside the stadium, he agreed his superior "should have been proactively taking action to manage that situation as a person in charge".
He also agreed that it was "difficult to understand why the match commanders in the control box failed to take action to manage the ingress through Gate C".
The inquests have previously heard that opening Gate C, near the Leppings Lane turnstiles, allowed about 2,000 fans to enter the ground in a matter of minutes.
Later, the court heard from Stephen Curry, who was reporting on the match for the Daily Express and was in the press box in the South Stand.
He said that around 15 minutes before kick-off, he noticed the build-up of fans in the central pens of the Leppings Lane terrace and used a pair of binoculars to scan the scene.
'Absolutely heaving'
He said: "You get a feeling for when things are brewing. It's almost like an instinct. I felt it that day.
"I said to a Liverpool radio colleague, 'I don't like the look of what's going on around there'."
He agreed that the central pens were "absolutely heaving" and said it appeared people "were in the wrong pens".
"They should be balanced across the whole [terrace]."
Asked about police reaction to the looming disaster, he said "there did not seem to be any" and agreed officers around the ground seemed to "lack organisation and leadership".
"I was actually shouting in the press box, 'Open the gates.' Yet nobody opened the gates. I just could not understand it."
He spoke about the fans outside the ground and their "very friendly banter" before the game, and was then asked about police testimony that they smelt of alcohol.
"I have to say whenever a football match is organised at whatever level, you can smell alcohol because fans have a drink before a match.
"I have been a student of football for 50 years and I have to say at this point, in my view, Liverpool football fans are some of the best in the country... they understand the game, they're passionate about the game, they are amusing.
"You get a bad egg in every few dozen if you want, but overall I think Liverpool fans do themselves justice at home and abroad."
The inquests in Warrington continue.