Living posthumous VC winner John Davies honoured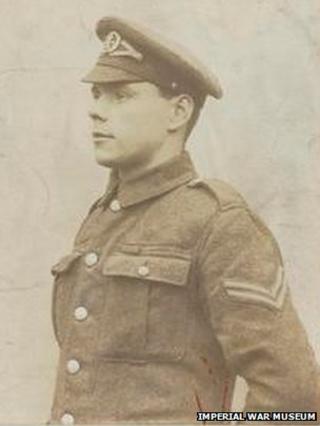 A World War One soldier thought to be the only person ever to receive a posthumous Victoria Cross while alive is to have a road named in his honour.
Cpl John Thomas Davies was thought to have died at his gun while providing covering fire on 24 March 1918.
His parents were notified of his death, but two months later, it was discovered he had been taken prisoner.
He will be one of four local recipients to give their names to new streets in St. Helens.
Cpl Davies won his Victoria Cross when his company was outflanked on both sides near Eppeville in France.
His citation read he "kept his Lewis gun in action to the last", allowing his comrades to escape an enemy attack, but "was in all probability killed at his gun".
However, he was actually taken prisoner and after the war, he returned to St. Helens, where he served in the Home Guard during World War Two.
'Inspired all'
Norman Harvey, John Molyneux and Frederick William Hall will also have roads named after them in the town.
Pte Harvey's citation states he was given the medal for capturing two guns and engaging an "enemy strong point" single-handedly on 25 October 1918, actions which "saved many casualties and inspired all".
Sgt Molyneux received the award for forcing the surrender of enemy soldiers and captured a machine gun on 9 October 1917. He was also awarded the Belgian Croix de Guerre for his bravery.
Sgt Maj Hall was given the medal posthumously after he was shot while trying to save a wounded soldier in No Man's Land on 24 April 1915.
The town's council approved the naming of the streets as part of its commemoration of the centenary of the outbreak of the war.
Councillor Seve Gomez-Aspron said the centenary was of "monumental significance and this council resolves to honour the occasion".
The council has not decided where the new roads will be placed.