Puppy Pandora: Abandoned husky-cross attracts 750,000 hits, 500 home offers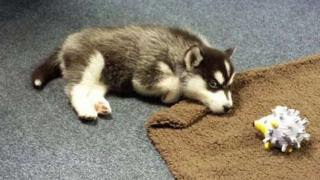 An abandoned puppy, thought to have been imported into the UK illegally, has been offered a new home by at least 500 dog lovers.
An online picture of Pandora, who is 10 weeks old and thought to be a husky cross-breed, has received 750,000 hits.
After being found under a hedge near a main road by a dog warden, Pandora was taken to Merseyside Dogs' Home.
Staff believe the puppy, valued at £1,000-£2,500, was abandoned after being smuggled into the country.
Manager Paul Dunne said: "We've checked [breeders in] all of Cheshire, Greater Manchester, Lancashire and Merseyside, and no-one seems to know anything about her.
"She's a designer dog, a miniature cross between a husky and a Pomeranian, deliberately designed to be appealing, and very high value.
"We believe she is part of puppy trafficking from eastern Europe.
"They come over in a van load, maybe 30 dogs at a time, and people are willing to pay large amounts of money for such small, puppy-like dogs.
"On a transportation like that you'd expect to lose 40% of the puppies.
"She's lucky to be alive."