Liverpool Santa Dash 'may be dropped in 2015'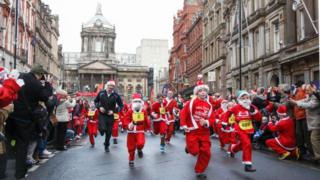 Organisers of the Liverpool Santa Dash say they may drop the charity run next year due to rising council fees.
Alan Rothwell, from event co-ordinators BTR Liverpool, said the company paid Liverpool City Council more than £17,000 to stage this year's race.
He added the sum included £11,000 to compensate a full day's loss of parking charges, which he said was "out of order" as the 5km run ends before noon.
The council said it would refund the difference "if it is too high".
A spokesman said there were costs associated with large-scale events and it was "appropriate that organisers work together with us and other partners to meet those costs, especially at a time when the city council is facing enormous cuts to budgets".
Mr Rothwell, who created the annual event in 2004, said he was expecting 10,000 runners and about 12,000 spectators at the run on 7 December.
He said race organisers paid only £2,000 to the council last year because temporary free parking was introduced for Christmas shoppers.
"I'm dismayed that the local authority can have so little regard for the event by imposing such huge charges, which are way beyond what is potentially lost on the day," he said.