Homes evacuated after buildings collapse in Wallasey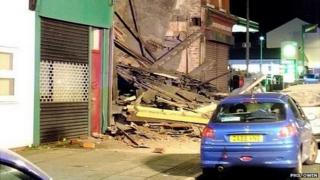 Two derelict buildings collapsed in a Wirral street, prompting an evacuation of surrounding homes.
The council-owned former shop and flat came down in King Street, Wallasey, at 19:40 GMT on Wednesday.
No-one was injured, but people living in eight nearby properties were asked to leave as a precaution.
An investigation into the cause of the collapse is continuing and it is not yet known if more buildings will have to be demolished.
A rescue dog was used to search the rubble, and engineers were called to make sure the gas supply was isolated.
'Almighty crash'
Passer-by Alan Sharp, who saw the buildings fall down, said: "I was waiting at the bus stop going to my girlfriend's and all of a sudden I heard this almighty crash and saw the building coming down.
"All the dust and all the rubble was coming towards me, so I had to hide in the bus stop to stop it going in my face.
"All the rubble came into the middle of the road. If anyone had been walking past, they would've been killed."
A spokesman for Wirral Borough Council said council accommodation was provided for one family, and all the residents have now returned.