Liverpool Council 'cannot subsidise' Santa Dash, mayor says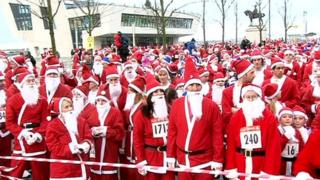 Liverpool can no longer subsidise a privately-run charity event because of the council's "funding needs," the mayor has said.
Joe Anderson said organisers of the annual Santa Dash would now have to pay for the loss in parking charges.
BTR said they are considering moving the 2015 event out of Liverpool after fees rose £11,000 in two years.
Race organiser Alan Rothwell said the council had shown "no respect or regard for the work we have done in the city".
About 10,000 runners and 12,000 spectators are expected at this year's festive charity run, which takes place on 7 December.
The mayor said the Santa Dash was "a great event which Liverpool people have taken to their hearts" and which raised "thousands and thousands of pounds for charities".
However, he said Liverpool "hosts many large events and we have to be fair and apply the same rules to BTR as we do to any others.
"Previously we have been able to support events of this kind, but the council simply cannot subsidise a private company when we are trying to balance the funding needs of services like children's centres, adult social care and libraries."
The 2014 council charge includes £11,000 to compensate for loss of parking revenues.
Mr Anderson said that amount would go to Alder Hey Children's Hospital.
'Clearly not welcome'
Mr Rothwell said the decision to raise the charges, coupled with the company feeling they had been "politically and commercially manipulated, suggests the local authority has no respect or regard for the work we have done in the city since 2004".
"We need to work in an environment that is positive and supportive of what we are trying to achieve and that is not Liverpool.
"I have given up the last 10 years of my career to help make a difference in our great city and to that end I think we have.
"That said we are clearly not welcome here by the local authority."
BTR hosts two races in Liverpool - the Santa Dash and a half marathon - and four in the wider Merseyside area - a Wirral half marathon, a 10k race through the Mersey Tunnel, a 10k run in Port Sunlight and a Tour of Merseyside.
Mr Rothwell said as a result of the fees row, he would also be moving the company's offices out of Liverpool.
"If the focus of our activity is elsewhere in Merseyside then it makes sense to be based where the majority of events are - and that is likely to be Wirral," he said.