Hillsborough inquests: Ambulance worker left 'without direction'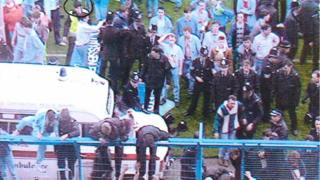 An ambulance worker at Hillsborough said he was left "without direction" after telling a superior officer that fans were dying on the terraces, the inquests have heard.
Leslie Worrall was one of the first ambulance men to go to the stadium's Leppings Lane end during the disaster.
He told the jury fans were turning blue and some appeared "lifeless".
Ninety-six Liverpool fans died following a terrace crush at the FA Cup semi-final on 15 April 1989.
'Lifeless and dead'
Mr Worrall, who joined South Yorkshire Metropolitan Ambulance Service (SYMAS) in 1982, was a qualified ambulance man on the day of the disaster.
The jury heard he first went to the Leppings Lane end at about 15:11 BST to treat a man with a suspected broken leg.
He first looked into the pens behind the goal in the minutes that followed, the inquests heard.
He said he saw "supporters that were pressed up against the fence - obviously some looked cyanosed [turning blue], moribund in appearance".
Mr Worrall, who is still a serving paramedic in Yorkshire, said other fans "looked lifeless and dead".
He described one supporter in the melee of fans crushed against the fence.
He told the jury: "He opened his eyes, didn't say anything, his eyes just opened, and I couldn't get to him.
"I would have had to climb over the fence and walk on bodies to actually get to him.
"I told him just to relax and we would get to him, we would assist him out. Then he closed his eyes."
'Emergency of enormous proportions'
In a statement he said that "at some stage" he found his superior officer Paul Eason and informed him there were a number of dead bodies.
Mr Worrall added in the statement: "Mr Eason was actually trying to use his radio handset but was obviously having problems contacting control."
Fiona Murphy, who represents a group of bereaved families, asked: "It's true, isn't it Mr Worrall, that within a short period of time you had practically identified that what was occurring here was a medical emergency of enormous proportions?"
Mr Worrall said that was correct and he had shared that information with Mr Eason.
After seeing footage timed at 15:14, which appeared to show Mr Worrall speaking to Mr Eason, Mr Worrall agreed he looked "somewhat directionless".
'Acted in isolation'
He was then shown another image timed at 15:26, after which Mr Worrall agreed he was "left without direction from Mr Eason".
Ms Murphy asked: "In consequence of your not being directed to implement the major incident plan, you were left to treat individuals as best you could?"
Mr Worrall replied: "That's correct."
Ms Murphy said: "You ended up acting in isolation from the rest of your colleagues, yes?"
"Yes, that's correct," Mr Worrell replied.
The barrister then put it to Mr Worrall that there was no concerted plan of action in operation, to which he said: '"Not that I'm aware of."
---
Who were the 96 victims?
BBC News: Profiles of all those who died
---
He was also questioned by Jenni Richards QC, who represents Yorkshire Ambulance Service.
During her questioning the jury heard Mr Worrall had told police investigating the disaster that he did not need any direction or instruction to assess and treat casualties.
The witness said he chose which casualties to treat "at random".
Two of them were Colin Ashcroft and Nicholas Hewitt, who both died in the disaster.
Mr Ashcroft was a 19-year-old gardener from Warrington.
Mr Hewitt, 16, was at school and preparing to sit exams that summer. His 17-year-old brother, Carl Hewitt, also died. They lived in Leicestershire.
The inquests, sitting in Warrington, continue.