Hillsborough inquests: Police riot van blocked ambulance route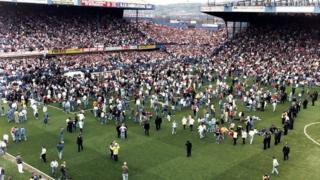 A police riot van blocked a route designated for ambulances during the Hillsborough disaster, the inquests have heard.
Former South Yorkshire Metropolitan Ambulance Service (SYMAS) Divisional Supt Trevor Dale said the emergency response was not "held up" by the van.
He agreed the response was initially "a little bit disorganised".
However, he told the jury his team "soon got on top of things" and did a "good job".
Ninety-six people were fatally injured in a crush at the Sheffield stadium at the FA Cup semi-final between Liverpool and Nottingham Forest on 15 April 1989.
Mr Dale, who was responsible for staffing ambulances in seven stations in Rotherham and Sheffield, arrived at the ground at about 15:25 BST.
He said the SYMAS emergency plan was to use a one-way system to collect casualties.
It stated they would leave Penistone Road by one gate, collect casualties from the gymnasium, and exit back on to the road from a second gate.
However, he said that plan was not followed on the day of the disaster.
'Degree of congestion'
He said there was "some access at both gates but you couldn't drive through" and that "someone parked... a riot van" between the gates.
He admitted he never asked a senior police officer to move the vehicle, which "would have made it easier but I don't think it held the response up at all.
"It just made it a little more difficult by having to reverse in, rather than drive in and drive out."
A one-way system would have been better, he said, but "in some cases, patients were coming direct to ambulances being brought by fans".
---
Who were the 96 victims?
BBC News: Profiles of all those who died
---
The jury also heard how an ambulance parked in the yard by the gym blocked another behind it from going to hospital, something which Mr Dale said he dealt with "within minutes".
He agreed there was a "degree of congestion" at the Penistone Road gates and that "two loading areas were a little bit disorganised".
However, he said "any major incident" began like that and the service "soon got on top of things and it became very organised".
He denied the yard outside the gym "became a bottleneck" and said that "most of the time it ran smoothly".
He also denied ambulances were queuing down Penistone Road, but agreed there were probably 20 on the road by the time the service "got control of the incident".
Asked to consider whether SYMAS had control over the situation, he said: "I thought we did a good job, but we didn't have a lot of control over the casualties coming off the field because they were coming in... on hoardings, just carried between people".
The inquests, in Warrington, continue.