Two more gas blast cash machine gang members jailed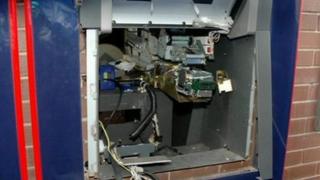 Two more members of a gang who used gas to blow up cash machines and steal an estimated £800,000 have been jailed.
Jonathan Webb, 32, of no fixed address and Daniel Morgan, 22, of Prescot, were sentenced to 19 years and 13 years respectively for conspiracy to cause explosions and to commit burglary.
The pair had fled to Spain but were extradited to face trial at Liverpool Crown Court. Both denied the charges.
Five other members of the gang were jailed in September for the 2013 raids.
'No regard'
Morgan, of Youatt Avenue, and Webb were tracked down in Spain, arrested under a European Arrest Warrant and returned to the UK.
The Crown Prosecution Service (CPS) said the gang were "ruthless and organised criminals" who used tactics that had previously only been used on mainland Europe to obtain large amounts of cash from 30 machines at banks and convenience stores.
The gang from Merseyside and Coventry targeted machines in Wirral, Lancashire, Cheshire, Southport, Liverpool, Prescot, Loughborough, Gloucester, Birmingham, Northampton and Derby.
The men wore balaclavas and used equipment including angle grinders and gas-cutting torches before driving away at speeds of up to 191mph in stolen cars with cloned number plates.
The gang members were traced through a tracking device fitted to the cash box from a machine in Warrington.
Janet Potter from the CPS said: "The method they used to do that involved the use of explosives to blow the back off the machines so that they could access the cash once they had burgled the premises.
"They had no regard for the risk to the public that created.
"All they were concerned with was the amount of money they could steal. On one occasion, they stole a quarter of a million pounds in one night."