Merseyside Police £12.7m cuts 'unsustainable', says PCC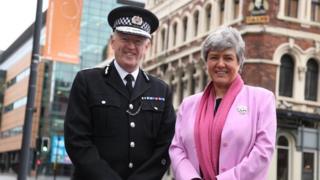 A further £12.7m cut to next year's Merseyside Police budget is "completely unsustainable", said the area's police and crime commissioner.
The government announced plans for a 5% reduction to all force budgets for 2015-16 on Wednesday.
Merseyside Police and Crime Commissioner Jane Kennedy said the extra cuts were "so severe", they put policing at risk.
But the government said police would still have sufficient resources.
Policing Minister Mike Penning said: "We have made it easier for the police to do their job by cutting red tape, scrapping unnecessary targets, and giving them the discretion to use their professional judgement."
'Savage cutbacks'
Ms Kennedy, who is responsible for setting the Merseyside Police budget, said she was "deeply disappointed" at the severity of the cuts.
And she warned that, in a couple of years, the force would "not be able to respond to emergencies and patrol the streets at the same time".
"We have already lost 1,200 police officers, PCSOs and staff due to this government's savage programme of cutbacks and we are now being asked to save a further £12.7m next year.
"If these cuts continue as this government plans, I estimate we will be forced to lose 41% of our people by 2018."
Merseyside Police currently has 3,917 officers and 2,132 support staff.
"No-one on Merseyside believes we need fewer bobbies, yet these cuts are dramatically reducing our forces and will undermine our ability to provide the service that the public expect and deserve," she added.
In October, Ms Kennedy announced a £130m plan to overhaul police stations across Merseyside which could see some bases moving into community centres and libraries.