Hillsborough Inquests: Up to five cardiac arrest fans 'treated as dead' in hospital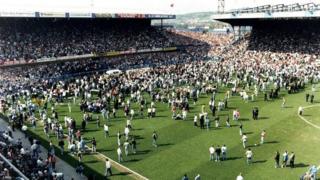 A hospital consultant working on the day of the Hillsborough disaster has told the inquests some cardiac arrest patients were "treated as dead".
James Wardrope told the jury he decided to send "four or five" casualties to a temporary mortuary because of the sheer numbers of emergency admissions.
Had a "major incident" been called earlier, he said, the Northern General Hospital could have prepared better.
Ninety-six fans died after a crush at the 1989 FA Cup tie in Sheffield.
A transcript of a phone call made from the operations room at South Yorkshire Police to the Sheffield hospital at 15:14 GMT was read out in court.
It referred to an "accident" at Hillsborough, and that there were "quite a few people injured apparently".
'Sending dead patients'
Mr Wardrope said if the words "major incident" had been used, the hospital could have had four or five more doctors available to start treating patients when they began to arrive about 15 minutes later.
The jury heard 56 patients were admitted to the hospital within 45 minutes.
Fifteen were taken to intensive care, with 11 declared dead on arrival or while in the Accident and Emergency department.
Mr Wardrope told the court the charge nurse on duty took the decision to put in place procedures to deal with a major emergency, but added: "At the start we didn't have a chance to prepare the hospital properly.
"We were already receiving seriously injured patients when the major incident was called."
He said the pressure became so great that at one point a nurse shouted to him: "They're sending us dead patients."
The consultant told the court in Warrington: "I had a decision to make - I had a patient who was unconscious but breathing, I decided that patients who had cardiac arrest were to be treated as dead and taken to the temporary mortuary."
He said he could not comment specifically on the survivability of patients.
'Total mayhem'
Jo Delahunty QC, acting on behalf of 10 Hillsborough families, asked whether the delay in implementing clinical decisions had been avoidable.
Mr Wardrope replied: "I don't think I have got full knowledge of all the facts of what happened to express an expert opinion on this case, and making a judgement I think is probably a matter for the jury."
The jury then heard from Roger Morley, assistant divisional officer for South Yorkshire Metropolitan Ambulance Service in 1989.
After arriving at the ground at 15:23 GMT, he told the inquests he saw a scene of "total mayhem".
He said: "We pulled in through the gate, there was police officers on horses, there was police vehicles, there was people running up the slope with advertising hoardings with casualties laid on them.
"There were casualties lying on the floor in front of us, towards the first aid room. There was fans screaming. It was just terrible, it really was."
He said he thought there were fatalities about 10 minutes after he had arrived.
The inquests are due to continue on Friday.