Liverpool's cruise liner terminal 'to be expanded'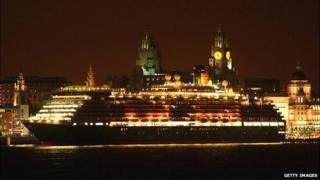 Liverpool's temporary cruise liner terminal could be expanded to handle even bigger ships, as the search continues for a permanent facility.
This year the Princes Dock terminal is expected to welcome 54 ships and 80,000 passengers - a 40% increase on 2014.
Councillors want to purchase the rented facility and extend it to cope with up to 1,800 passengers per vessel.
The move comes after plans to transform the Cunard Building into a cruise liner terminal were abandoned.
Liverpool City Council's cabinet will consider the plan in a meeting on Friday.
Councillor Malcolm Kennedy, cabinet member for regeneration, said: "It makes economic sense for us to purchase the building as, even with the improvements we are carrying out, the cost is less than half the amount of continuing to rent it.
"This will put us in a position to continue the success of the cruise liner terminal while we look at options for a more permanent facility in the longer term."
The improvements would see 400 sq m of new floor space to deal with 350 extra passengers and 700 bags.
There would also be new indoor toilets and an expanded area to ease the flow of passengers embarking and disembarking.
The council says the terminal is expected to contribute about £5.8m to the city's economy in 2015.