Mystery painting identified by new boss of The Atkinson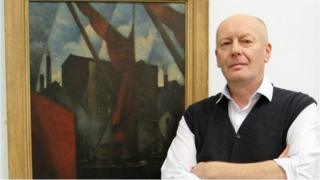 An art expert who identified a mystery painting at a job interview has been made manager of the gallery storing it.
Stephen Whittle revealed his "strong hunch" about a painting that has been stored at the Atkinson arts centre in Southport since the 1920s.
He told the panel he thought it was Limehouse, a work by CRW Nevinson, a futurist painter.
"When I saw this unattributed image on the BBC Your Paintings website, it was very reminiscent of Nevinson," he said.
Mr Whittle, who came across the painting as part of his interview research, added: "I mentioned my supposition at interview, but I don't know if it led to me finally getting the job."
The painting depicts Limehouse docks in east London. It was painted in 1913 but was superseded by a more famous version created five years later.
Michael John Kirk Walsh, a biographer of Nevinson, confirmed it was by him.
Experts at the National Conservation Centre, in Liverpool, uncovered the artist's signature and several previous compositions lurking beneath the top layer of the painting.
The painting is displayed in a new exhibition, Rediscoveries, running until 3 October.
Christopher Nevinson was an avant-garde English painter with close ties to many of Europe's Modern art movements. His paintings of World War One brought him lasting fame.