Everton v Liverpool derby: Premier League confirms late kick-off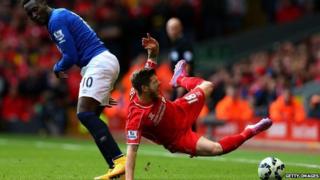 Next month's Everton v Liverpool derby at Goodison Park will remain a teatime kick-off despite council objections, the Premier League has ruled.
Liverpool City Council had asked that the Saturday 7 February fixture, set to begin at 17:30 GMT, start earlier.
The request followed Merseyside Police identifying the weekend game as having a higher risk of disorder because of the late kick-off time.
However, the Premier League has said the time will not be changed.
Gareth Roberts, editor of Liverpool fanzine Anfield Wrap, said the attitude of the police and council did not create a positive image of the city.
"Everton and Liverpool have evening games without any trouble - the police and the council seem to think people will be drinking all day," he said.
"A lot of fans have families - they won't be drinking. Those who want to drink will have a drink no matter what time the kick-off is."
In a report to the ground safety advisory committee in December, Merseyside Police said it did not support the teatime kick-off, stating weekend games should begin no later than 13:30 GMT.
The police report said that while there was no specific intelligence indicating any organised disorder, the wider implications of a late kick-off meant they had to take action.
The council said in December it would be seeking legal advice on its position if the Premier League did not bring the start time forward.
Neither the council nor police has responded to the Premier League's decision, which is supported by the home side Everton.