Hillsborough Inquests: Blood alcohol test 'must have' been ordered by consultant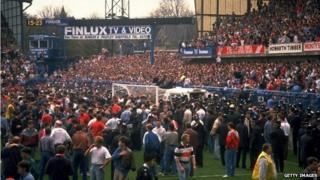 A former A&E consultant said he "must have" ordered blood alcohol tests on patients who were taken to hospital after Hillsborough, the inquests heard.
Alan Crosby said the presence of alcohol might influence the treatment a patient received.
The former Royal Hallamshire Hospital doctor also said he was initially told the disaster had been caused by a stand collapsing at the stadium.
Ninety-six fans died after a crush at the 1989 FA Cup match in Sheffield.
Mr Crosby initially told the inquests' jury he had no recollection of ordering staff to take patients' blood alcohol levels following the semi-final between Liverpool and Nottingham Forest.
---
Who were the 96 victims?
BBC News: Profiles of all those who died
---
He was shown a statement made by a toxicologist, who said he remembered being asked to do the tests by Mr Crosby.
Judy Khan QC, who represents some of the families, asked: "Do you accept that you directed these tests be done or not?"
He replied: "Well, I think I must have done."
Ms Khan said the results did not feature in patients' medical records.
"It wouldn't make much sense from a clinical perspective to carry out those kinds of tests, if that was your reason, and not record that in the medical notes of the person seen," she said.
Mr Crosby accepted he would have expected to find the results in the notes.
Of all the patients who were tested at the hospital, two had alcohol in their system, the inquests learned.
Mr Crosby also recalled how staff at the hospital were initially told the disaster had been caused by a stand collapsing at Sheffield Wednesday's ground.
It was not until about 16:30, he said, when a doctor who had been at the game told him there had been some sort of stampede or crush.
Mr Crosby admitted that it would have been useful to have known about the cause and nature of the injuries before patients started to arrive.
He said he had no communication with the ambulance service until about 17:00.
But he insisted the lack of information did not affect the quality of care staff were able to give casualties.
The inquests in Warrington continue.